"Always Smiles"Flatware Set
To my Family:"Keep smiling, smile everyday, always smile"
Hope our family after a long and hard day, everyone still smiles at dinner!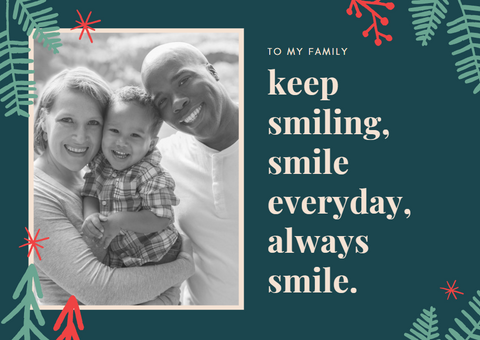 ###New tech, Dishwasher safe, Not fade
Transform your table setting with Smiles Set from SHELLANDTURTLE. Made from 18/10 stainless steel, each piece has been designed to the smallest detail in collaboration with the most famous and recognized chefs.
Much more than cutlery, they are really tasting tools designed to enhance the taste and texture of foods. The fluid design and refinement of the mouthpieces contribute to the elegance of this model.
Made for forever: Made out of durable 100% stainless steel (18/10) 
Hand-Forged: Hand forged to ensure quality design and integrity
Super easy clean: Easy to clean - just wipe with any cloth
Long-lasting finish: Electroplated for long-lasting protection
# Dishwasher safe to make your life easier (avoid citrus-scented detergents)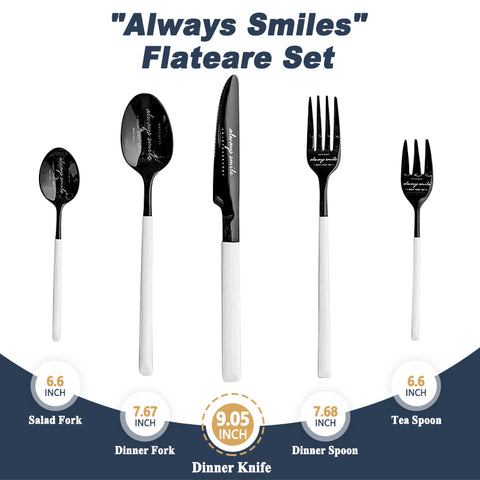 Package includes:
5 Pieces Set:
1 X Dinner Fork
1 X Dinner Knife
1 X Dinner Spoon
1 X Dessert Spoon
1 X Dessert Knife
20 Pieces Set:
4 X Dinner Fork
4 X Dinner Knife
4 X Dinner Spoon
4 X Dessert Spoon
4 X Dessert Knife
30 Pieces Set:
6 X Dinner Fork
6 X Dinner Knife
6 X Dinner Spoon
6 X Dessert Spoon
6 X Dessert Knife
40 Pieces Set:
8 X Dinner Fork
8 X Dinner Knife
8 X Dinner Spoon
8 X Dessert Spoon
8 X Dessert Knife
60 Pieces Set:
12 X Dinner Fork
12 X Dinner Knife
12 X Dinner Spoon
12 X Dessert Spoon
12 X Dessert Knife