Use the waterfall Incense Burner together with incense cone, helps to purify the air, meditate and relax and improve sleep quality. The cones holder can be widely used in living room, bedroom, study, office, meditation room, yoga room, hotel,etc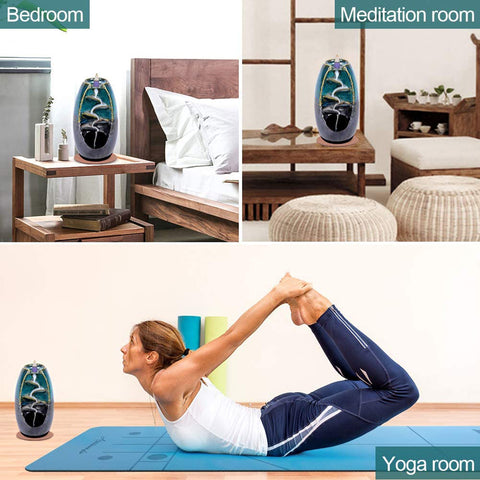 Impressive Mountain River Design
Featuring some eye-catching colors, an elliptical shape, and a hollow interior, this ceramic backflow cone holder brings a sophisticated touch to boring spaces. But what makes this handicraft truly unique is the mountain river design. Lighting an incense cone allows the trail of smoke to go down the burner, mimicking a waterfall flowing down a mountainside.
Hand Crafted 
The Waterfall incense burner is hand crafted with high-quality ceramics. Use the waterfall incense burner together with a wormwood incense cone which has a rich aroma and a long fragrance, helps to purify the air, meditate and relax, relieve stress, and improve sleep quality.
Soothing Reverse Incense Burner
Aside from aesthetics, this reverse flow incense burner also transforms rooms into a soothing space. Since ancient times, incense burning is used for meditation and prayer. Burning incense is beneficial in the following ways:
Decrease stress

Ease tension
Elevate meditative state
Cleanse negative energy
Dehumidify the room
Remove odors
How Do Backflow Burners Work?
A backflow incense burner has a tiny hole on top of the holder. When you light a piece of incense cone, the smoke flows down the burner, creating a stunning visual effect.
PRODUCT DETAILS
Item Type: Reverse Incense Burner
Material: Ceramic
Size: 4" x 8" (10.1 cm x 20.3 cm)
Colors: Mystic Blue, Desert Tan
WHAT'S INCLUDED IN THE PACKAGE:
1x Incense Holder
30 Backflow Incense Cones