🥰As a gift for your friends and family.
It's made of high-quality eco-friendly metal and crystal clear glass, finished with crystals and enamel, this mug is a unique art between vintage, dreamy and luxurious style. It will improve your lifestyle and artistic accomplishment. Stand out with butterfly and rose flower designs on it, we believe it will become your favorite glassware, and it can even be used as a decorative piece for your kitchen and house!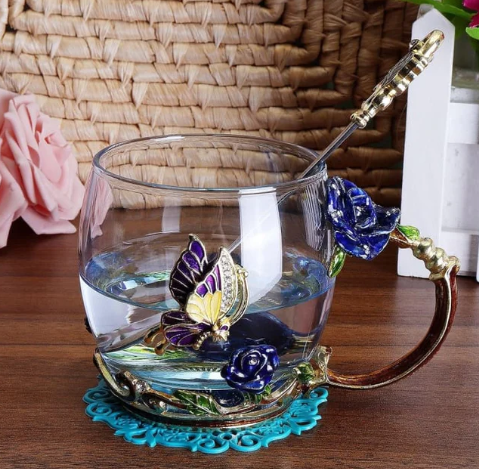 PERFECT HANDMADE ENAMEL CUP: It has an elegant style with butterfly and rose flower 3D designs.The glass material of the cup is glittering and translucent, classic but refined and the noble stylish look is functional yet decorative.

HEALTH: Made of high-quality Lead-Free eco-friendly sturdy glass material, is a healthier choice over plastic or acrylic material, contains no lead and barium harmful heavy metals, BPA-FREE, no toxicity, odor free, safe to use and easy to clean.

HOT AND COLD DRINKS: You can use this fairytale-like enamel mug to drink any kind of beverage you want. It's made of handmade enamel glass, high quality, not easy to break.

MATCHING STAINLESS STEEL SPOON: Each handmade mug comes with its own matching spoon, so that you can add sugar to your tea and coffee and stir it thoroughly with ease and style.

THE PERFECT GIFT: Thanks to its wonderful combination of art and practicality, the enamel mug is the perfect gift for a friend, mother, grandma, daughter, sister, lover, or a family member. The handmade glass mug is also a great wedding, engagement, anniversary, birthday gifts, and much more.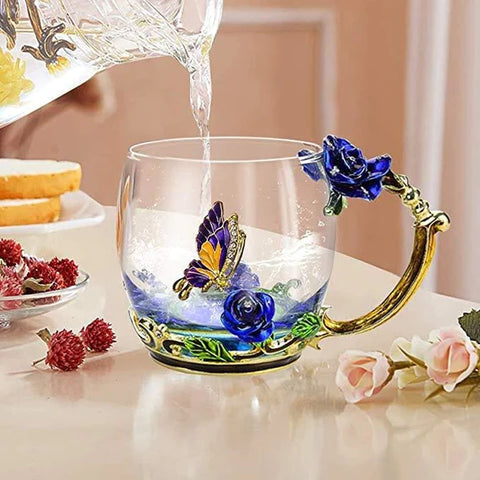 Package Include:
1 x Enamel Glass Cup
1 x Spoon
1 x Coaster
1 x Wipe Cup Cloth
1 x Gift Bag
1 x Beautiful Gift Box